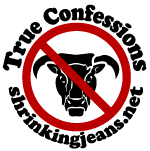 I literally have 10 minutes to write this but I feel I MUST get this out in the open so here are bullet points. Short and sweet!
* Exercise has been excellent! I have completed all 24 days of exercise his month! I have exercised before doing anything else in my day! Meanig sometimes school starts at noon! But I am done with exercise for the day!!
* My food choices for the past week have pretty much SUCKED! I'm guessing it will show up on the scale tomorrow, too! Sunday ate enough calories for 2 days!
* That Other Kid learned to ride his bike Sunday and I'm hoping to get a bike later today so we can start bike riding together! I LOVE BIKE RIDING!!
* I'm starting to think about what kind of exercise program to start in February, cuz I will be done with the 30 Day Shred on the 31st!