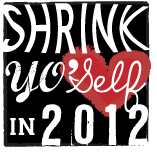 I saw this picture this morning on Facebook and it seemed to fit perfectly so I borrowed it for today's Weigh in post with the
Sisterhood
.
For the first 2 weeks in January I was on track and doing great with my goals for health and fitness. The last week and a half I have seriously been slacking. I could give you a laundry list of excuses but instead I choose to just suck it up and say I haven't had my head in the game. I have been going through the motions but haven't been doing what is necessary to apply the knowledge I have to lose the weight I want to lose.
So...here are the facts based on the numbers:
Starting challenge weigh in: 1/1/12 - 205.0

Last week's weigh in: 1/18/12 - 199.6

This week's weigh in: 1/25/12 - 201.0
Like I said I could give you tons of excuses for why I gained more than 1 pound this week but bottom line is I have been eating more calories than I should and at least 1 day this week I ate more than double the calories I should have eaten in 1 day. I HAVE been tracking my food and calories and workouts in MyFitnessPal app so I knew things on the scale were NOT going to make me a happy momma. I got off my "eating ONLY low glycemic index" foods and it is hurting me.
I HAVE been VERY consistent with working out. As of this morning I have worked out 25 days in a row, doing the Jillian Michael's 30 Day Shred and an additional 10 minutes of Ab work, since that is the area of my body I am most unhappy with. I'm looking at options of different kinds of workouts for the month of February and feel like it is a good idea for me to commit to doing a couple of different kinds of workouts. I think my body gets too used to doing the same things too quickly and then doesn't change. My Marine bought me The Biggest Loser for Kinect game for Christmas so I want to use that at least 3 days a week and then do something else the other days of the week that I work out. I am most content and happy with myself if I am working out most of the week so I will probably commit to doing a workout 5 days a week but most of the time I will workout every day.
As for my discipline issues with the eating right??? I just need to do what I know is right. I need to decide I want this weight loss badly enough. I need to accept that there are some things in life that aren't easy or fun and this is one of them. I know I can lose weight. I know I can do it! Every time I have decided I'm going to do something and pour myself into it 100% I have done it!
Now, the question is "how bad do I want to lose the weight?"
I guess next week's scale and My Fitness Pal chart will be able to answer that pretty clearly!
Speaking of pouring myself into something I am once again pouring myself into the Susan G. Komen 3 Day for the Cure Walk. This past weekend we had a team meeting to go over details for this year's walk. I am getting excited to start raising my $2300 and doing my part in finding a cure to breast cancer. You can help me by going to my fundraising page and making a donation! No donation is too small or too big! Please help by donating HERE!