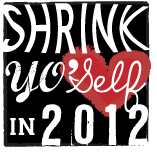 Here we are in week 3 of 2012 and it's Wednesday so that means it's time to weigh in with the ladies at
ShrinkingJeans
. So I'm just gonna go ahead and get right to it.
Starting weight for this challenge: 205.0

Last week's weight: 200.0

This morning's weight: 199.6
Ok...so it definitely wasn't what I had hoped for this week in the weight loss department but it is what it is! I'm UNDER 200 pounds and that made me happy! Honestly when I first got on the scale this morning it said 200 and I just couldn't accept that I hadn't lost ANY weight this week. I did have a couple of "off" meals but to go through the whole week exercising and eating less than my "alloted" calories and NO weight loss, I couldn't accept. So, I got on the scales again and it went down to 199.6! That is a number I could accept. Minimal loss but a loss regardless.
I have been doing pretty well on the 52 Small Changes challenges going on over at
the 'hood
. This week's challenge is to find little things to keep our body moving. I parked further at Target, used a different parking area for my car Monday night, helped carry My Marine's heavy sea-bags to the car and then into the airport Tuesday morning when he left. I have also been drinking my 100 oz+ of water so I go to the bathroom alot! All of these little things add up to extra movement, and extra calorie burn!
Ok..so yesterday I didn't get my Confessions posted, so you get to hear my
excuses
confessions for this week in this post, too! I know you are excited...so here they are in bullet points, since that's easy!
*I went to Schlotzsky's Friday night and ate a 880 calories cinnamon roll! Not exactly on my Low Glycemic Index diet plan!
*Sunday went out for a final "family meal" before My Marine left to go back to California for his next phase of the Marines. We went to
the Texas Roadhouse
because he loves their bread! I do too BUT I only ate 1 roll! It was a wonderful roll BUT it wasn't on the plan! But, I ate a SALAD AND GREEN BEANS instead of my usual salad and baked potato! Those were ON my plan! Yay me!
*Oh and I DID NOT drink a coke with my meal, like I usually do!
*I didn't go to sleep Monday night because I needed to take My Marine to the airport at 4:00 am. I decided it would be better to stay up and then go to sleep AFTER getting home from the airport. I DID NOT drink soda on the way home from the airport! Nor did I stop at the NUMEROUS DONUT shops that were on the way home from the airport like I normally would! Score for me!
*I came home from the airport and got in bed at 6:30 am and got up at 11:00 am. If I would have been able to sleep all the way through that time I would have been ok for the day, BUT I got interrupted by the hubs, That Other Kid and the cats numerous times! I figure I got 3 or maybe 4 hours of sleep!
*I was tired all day but DID my Jillian Michael's 30 Day Shred dvd and my 10 minute ab work shortly after getting out of bed!
*I went to sleep shortly after 10 p.m. last night and slept till 9:30 this morning! I felt a bit sluggish from getting that much sleep!
*I skipped lunch today and was sooooo hungry this afternoon. I bought mozzarella cheese sticks from Sonic. Then for dinner I ate a huge cheeseburger, french fries and a COKE! I knew when I ordered all of this food I was making a huge error in judgement! I knew I should have gotten something MUCH better for my body but I didn't feel like going to another food place and I really didn't care at that point that it was not on the Low Glycemic Index plan!
*Honestly the food didn't taste good and the coke just left me MORE thirsty! It didn't really satisfy my desire for salty food either!
***Yes, eating the right foods for me makes me feel better and I know that although eating "crap" food occasionally will happen I feel a lot better mentally and physically when I eat what my body NEEDS!
***Eating right and exercising at least 30 minutes a day helps me mentally and physically feel so much better! I'm glad I have finally figured that out!
***I completed Day 18 of the 30 Day Shred with additional ab work this morning and I'm beginning to be able to tell a difference in my body shape. My stomach does seem to be shrinking, although I haven't taken measurements. I'm going to wait till the end of the month to measure but it is noticable enough that my hubs can tell!
***I sent My Marine off to Camp Pendleton, CA yesterday morning and only shed a few tears. I probably won't hear from him till he is done with this phase of training in 3 weeks. Then he will head off to Ft. Mead, Maryland for his final phase of schooling for nearly 3 months. During his final phase he will have more freedom and I'm praying that I will have more contact with him. I don't know when he will get to come home again....and that makes this difficult BUT I am
pretending to be
strong! I have to be, I raised a Marine!!
I absolutely LOVE this quote! I got this card today from
'Lissa
and it really hit home with me!
Ok..so there you have it. My confessions for the week as well as my weigh in post! Nothing like killing 2 birds with 1 stone, huh?!