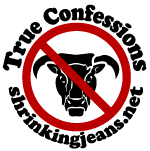 Bullet points make great confession points, don't they??
** After last weeks decision to "change up the exercise routine" I have been doing different exercise routines every day. Yesterday was such a nice day out and I decided if I want to participate in another 5K I need to start running again. I almost talked myself out of it and went to hang out with friends instead of getting right to it, but I managed to pysch myself up enough to do it afterwards. I'm glad I did now....although my legs are not so happy about it today. My muscles are so tight I can barely walk around the house!! I guess I didn't stretch enough, huh??
** I ran/walked 1.9 miles in 30 minutes yesterday and ran well over half of that. This was the first time I had run at all since the week before Christmas. It felt great to have the wind in my hair and pounding the pavement again! This will be the first of many runs in the next 2 months cuz I'm planning to run in the
ZoomaRace in Austin on April 16th
. I'm hoping to win the entry fee from
Lisa and the Sisterhood
but if I don't the race fee isn't so high that I probably can swing it and besides I would get to hang out with the Famous Lisa and Christy and finally meet them!!
** I have only missed 1 day of exercise over the past 53 days! I'm pretty happy about this accomplishment since I can honestly say that this is a new record for me!
** I told ya'll that I was gonna start tracking my food this week...um...I didn't do it until yesterday (and that was just in my head after I ate it). Today I have done a good job of tracking my food. It's amazing how much calories some of the most basic food have in them!! Since I tracked my food (in my head) yesterday I didn't eat ICE CREAM even though I really wanted to!! (Ice cream is one of my weaknesses!!)
** I started down a slippery slope of drinking Cokes again this past week when I am "out and about"!! Not a good thing for a girl trying to lose 40 - 50 more pounds! Don't worry I broke that little habit today!! Of course, it may hurt me on the scales tomorrow but if it does at least I will know why!!
** I did a plank hold for 2 minutes and 34 seconds this weekend for
Christie's Fail Project
! What am I gonna do this week??? I don't know yet, but I'm guessing it won't be till later this week cuz I can barely move my legs and my arms still hurt from Sunday!!