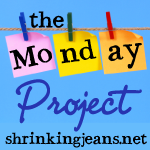 I'm a little bummed that I didn't get to do the Zumba class at the gym like I had wanted to for this weeks edition of the Project Fail....I was going to add running (wogging) before and after the class, but alas, best made plans are made to be disrupted when you are a household with only one car and you have a 7 year old at home. Hubby had a meeting and I couldn't leave That Other Kid at home and he couldn't run the route I had planned out to get to the gym, so I had to look for an alternative way to get my exercise done for the day.
We have had NetFlix for a while now and I noticed a few weeks ago they had a workout DVD available for Instant view that was designed to work the tummy and was a Dance Move workout, so I pulled it up and decided to workout with this since this was probably the closest thing I was gonna get to Zumba class. I RARELY workout at home while That Other Kid is up and about, but Saturday night is "at home date night" with the hubs so in order to workout before 1 a.m. I needed to workout during the day!
I started the DVD and immediately liked the feel of this. It seemed similar to the moves that I did at Zumba class but it focused a lot more on the tummy area. I have struggled with my core and I feel that it is the one area that really needs to be pushed more to find the results I am looking for. I did the dance moves (for the most part) and when it was over the DVD moved on to some "tummy toning". Immediately, I noticed that this was gonna push me beyond what I am accustomed to! This is what I was looking for. It was only about 5 minutes of various crunches, sit ups and oblique moves but I'm telling you that was A LONG five minutes for me! My upper abs are still SCREAMING some 24 hrs later!! Hum....guess I need to work those abs a bit more, huh?? I'm thinking this will become a regular part of my workouts for a while...can't hurt, right? or maybe it can!! lol
Heather is doing a Weekend Warrior challenge
to push people outside of their comfort zones (and to help prepare her for her upcoming 1/2 marathon) and this weekend she asked us to do the Plank Hold for as long as you can. )She also wanted to see how fast we could do a 5K but since I didn't get to run as I had planned to or get to the gym this weekend I'm passing on that part of the challenge.) As I just alluded to my core/abs are pretty weak but since this month's
Monthly Project is Project Fail
I wanted to do the plank hold and push myself further than I ever have before. So here is my new PR for the Plank Hold.....
2 minutes 34 seconds!!
I know that for some people this would be "no biggie" but for me I am thrilled that I could support my 197 pounds for more than 2 1/2 minutes!! I think the most I had ever done before is about 1 1/2 minutes so I really went above and beyond my previous PR!!
Thanks
ChristieO
and all of the wonderful people over at the Sisterhood for continuing to push me beyond what is comfortable for me!