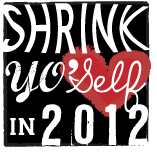 Wow! February already? I know most everyone is having the same reaction...this year is moving right along and we've already finished 1/12th of the year! Anywho, it's Wednesday and that means it is time for weigh in with the
Sisterhood
. It is also the beginning of February and I had decided I would do my measurements at the beginning of every month this year to "watch" the progress I am making. Keeps me looking at the big picture...how is my body changing?
During the month of January I lost 8 1/4" around various part of my body! I'm happy with that! 2 of those inches were around my waist, 3 of those inches were around my hips!
I started this challenge on January 1st weighing in at 205.0.
Today I weighed 200.0.
That means I have lost 5 pounds in 1 month...not what I wanted but hey it is a loss and a pretty decent one so I'm ok with it.
My goal for this challenge was to exercise EVERY DAY in the month of January using the Jillian Michael's 30 Day Shred Dvd and an additional ab workout! I am thrilled to report that I accomplished that goal! Not only that but yesterday I did ALL 3 LEVELS of the 30 Day Shred at once! Back to back levels! It was HARD! I was a hot, sweaty mess BUT oh what a fantastic feeling!
For February I have decided to use the Biggest Loser XBox Kinect game that My Marine bought me for Christmas. Honestly I had only played with it for about 10 minutes before this morning so I spent some time setting it up and figuring out what I wanted to do. I am going to workout with this game 4 days a week and do something else on the other days that I'm going to exercise. My goal for February is to exercise a minimum of 6 days a week. I feel like I might want to take an occasional morning off so I'm allowing that "day off" once a week. Have any of you used the Biggest Loser game? I'm not sure how I like it...I don't like having my "body" show up on the screen the whole time. I don't like how if I'm not in the "exact" right location it doesn't register my exercise. I know it's new to me and there is a learning curve and everything so I'm not quitting! Besides maybe if I see myself on the tv 4 times a week I will be more attentive to what I'm putting into my mouth!!
Ok..so in short: I lost 5 pounds in the month of January instead of 10 like I wanted.
I haven't followed the low glycemic index plan very well and that explains the reason behind the smaller loss.
I have stopped drinking cokes again and I'm staying accountable with a local friend so that helps me stay on track with that.
So onto February goals:
Workout a minimum of 6 days a week for at least 30 minutes a session.
Work harder at staying on the low glycemic index plan.
Stay away from drinking cokes.
Continue losing weight and inches.
Start doing some sort of "workout" with That Other Kid.