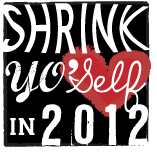 Last week I failed to post about my "weight loss" cuz honestly I didn't feel like coming here and telling you I had gained weight AGAIN! I almost didn't post today for the same reason....
So, let's just get the boring hum-drum details taken care of then we can move on to something more exciting, k?
I started this challenge on January 1st with high hopes of losing 20 pounds in 2 months. Honestly if I had stuck with my goals and plans I would have made it. BUT...I haven't and I won't. I started January at 205.0. Today's weight was up AGAIN to 202.6. I'm upset with myself. I'm upset that I can't seem to pull myself up by the bootstraps and do what is needed to get this weight off.
I know what to do, it's just a matter of doing it, right? Oh...I have a great list of excuses. But, really I'm just tired of them all! I want to look in the mirror and feel good about what I have accomplished. Not look in the mirror and see my clothes fitting too snug.
For the past week I have been suffering from migraines, and a sinus infection. Sunday I finally decided to go to the doctor and get some medicine. I'm finally feeling a bit better although the migraines are still there. I'm tired ALL THE TIME and have no motivation and energy to do anything beyond the basics of taking care of the house and people in it! Laundry that I washed Monday is still sitting in the basket to be folded and hung up.
Exercise hasn't been happening which is contributing to my depressed state of being. I was doing so good with exercise. I was doing the #FabAb February workout with Bari and Nancy, then it got to the point where laying on the floor was painful so I stopped. I managed to do it this morning (Day 11)...but now I am 4 days behind! Can I catch up when we are supposed to be doing 40+ situps a day? and 40second+ planks? I don't know. This morning those 40 situps were REALLY difficult! I'm gonna try because I like the accountability I am getting from these girls....
As for my Biggest Loser for Kinect workout? I was doing good with it, too, BUT sinus infections and migraines suck the life out of me! I haven't done anything in a week! Now I'm behind on that, too! I hate being sick!
I've been doing decent on my 52 Small Changes Challenges over at
the 'hood
, but during the past week I have fallen into all the bad habits....time to get back on target! I started tracking again this morning so that's a good place to start, right??
ok...enough of that drivel....My Marine is NOW stationed at Fort Meade, Maryland for the next 3ish months for his MOS (marine name for on the job training) schooling. He arrived this morning and I got a text from him saying he was at his "new home sweet home"! I think he is glad to be out of California! lol Fort Meade is just a short distance from Baltimore and the hubby and I are looking at the possibility of a trip out there! We've never been out east and now we have a great reason to go! And besides I know a lot of my friends live out that way!
Most of you know that I am a BIG supporter of Susan G. Komen organization. I am planning to walk AGAIN in the 3 Day for the Cure Walk in November. Another one of my friends sent me a message earlier this week telling me her aunt was just diagnosed with breast cancer! We MUST find a cure for breast cancer! It affects too many people and I don't want it to be someone else I know! It's time I get going on my fundraising so tomorrow I am holding my first "give-away for donations" for the year. I'm giving away a $25
Starbucks gift card
this time! Last year when I did this I was very happy with the results and
Thea
was the lucky winner of a $75 Target giftcard! Who will be the winner this time? Come back tomorrow for details! All you have to do to enter is donate $10 or more to
my fundraising page
! Easy peasy, right?!! If you donate today you will get an extra entry...so don't wait! Get a headstart (and an extra chance,k?)!