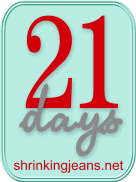 The new challenge started yesterday...in case you didn't catch it. It's only 21 Days this time and we are trying to establish some new HEALTHY habits, and break some bad ones. As always weigh in days are Wednesday so I hopped in my truck and went to the gym to weigh myself. I was, let's say, happy to see the numbers back down a little, but bummed that they weren't down as much as I had wanted.

Last week's weigh in: 204.10
Today's weigh in: 204.3

So I'm starting this 21 Day Challenge with the weight of 204.3. Let's see if I can be at or below 200 by the time this challenge is over, k??

I did start the day off with a banana and some pineapple juice so that is 2 of my fruit/veggie servings. I also started with my Bible and some prayer time. I'm going to get outside this evening after dinner, by enticing That Other Kid to go for a bike ride or roller skating. He loves to do both of these activities so it shouldn't be too difficult for him, me on the other hand...why is it so stinkin' hot out??? Me don't like this heat and humidity, ya know? Oh well only a few more months before it is bearable!

Brooke asked me what Bible reading plan I was using....so I'll tell everyone...It's from QuickVerse '08 "Read the Bible through in a Year". It is a software on the computer and it is very doable, but I feel like I'm going to need an actual Bible Study and I love Beth Moore's study's. I have one (Breaking Free) already that I "started" but never got more than a few days into, so I'm thinking about doing that. I also have several different devotional books that I think I'm going to get out and look at. I think I need something besides just a reading time, ya know??


So how are you doing today with your goals??