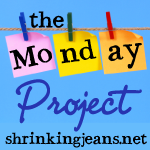 I'm participating in this weeks
Monday project
from the
Sisterhood
although I am doing it late...apparently I'm no earlier with my posts this year than I was last year! Some things never change, huh?
Anywho....I'm sitting here with so many thoughts running through my head and heart I can barely breathe properly. I am thinking of That Kid who is at this moment in "lock down" for his Marine Corp medical physical. If all goes according to HIS plan he will be signing up to be a Marine come tomorrow afternoon. What that means to me?? My 20 year old, 6 ft/215 pound BABY is about to join the Marines! Proud momma but UGH!!
I'm also thinking of my best real life friend who is going in for an MRI tomorrow afternoon to see if the aggressive Breast Cancer they found in one of her breast is in both. She believes it is.
My thoughts are also on my mom who is heading into knee replacement surgery on February 2nd. This should be a great thing for her but...you know??!!
So, as you can see I have much on my plate THAT I KNOW OF for this year. Let's see how the year goes according to my 2012 self!
Ann,
Here it is the beginning of 2012 and I just wanted to remind you of what a wonderful year you have had!! Glad to see you survived...oh wait, you didn't survive. You thrived!! What a wonderful year you had. The beginning of the year felt like you were gonna have another bust of a year. You struggled to get a hold of your emotions; what with your son joining the Marines and your friends breast cancer diagnosis and your moms knee surgery BUT you learned so much over the year I just felt I needed to remind you!

Emotional eating is not a part of your life any longer. You not only "got it by the horns" but you "wrangled it to the ground". Every time the emotional side of you told you to EAT and EAT and EAT, you went out and EXERCISED, and EXERCISED and EXERCISED!! Woman you are so fit now!!

You could probably take That Kid....not that you would, what with him being a Marine and all, but you could cuz you are one fit momma!!

Your friend also survived the breast cancer treatments with flying colors and is healthier than she has EVER been!

And your mom, well she has never been better. Not only did the first surgery go great but now she has 2 new knees and they are serving her well. She has taken walking back up and is doing above and beyond what her doctors thought possible. You were an instrumental part of that, so don't ever forget what a good influence you were on her. Encouraging her to walk and lose weight was just what the good doctor ordered!

In 2010 you surprised yourself by starting to run, not that you were fast but you were moving. Well 2011 saw you speed up and you now can run that full 5K in a competitive time. You ran a couple of races with friends from high school and that was a lot of fun, because 'they' used to be the runners and now you are all runners!! You also got to run your "first race" with your brother again! Man, that brought back some awesome memories!! You also started biking...not for racing but for fun! What memories that brought back to you from your childhood. You and That Other Kid love to bike together in the nearby bike paths and neighborhoods. It has been a great way to spend time with him that doesn't involve "parenting" or "schooling"...just hanging out has been great for both of you.

Homeschooling was very successful during the past year as well, since you learned to take one day at a time and not stress over the "basics". Learning how to go with the flow in every area of your life served you well. He has learned so much and it wasn't all "book" learning!

Your health and fitness levels are amazing for someone who is 46 years old and looking back at the pictures that you took at the end of 2010 for your Christmas calendar are just an additional reminder to you how hard you have worked during 2011. Looking at those pictures from last year and looking at you today are just unreal! Eating healthy foods that taste good is just like breathing to you now and it shows. You love to prepare healthy meals for the family that everyone likes to eat and you do so nearly every night. You still enjoy having a treat of ice cream or an occasional coke but neither are part of your routine diet now and your body has thanked you by losing all the excess fat that you were carrying around for some 20 years. Fruits, veggies, whole grain breads and lean meats are the norm in your diet now and you have a hard time thinking back to when it wasn't! Whooohooo!!

You were also able to contribute to getting all that "stupid debt" paid off in 2011. It made you feel like you were really doing a service to your family and it didn't hurt your family the way working did in 2010. I won't ruin all the surprises on how you did it, but everyone benefited from it in a positive way. You are now debt free and about to move into your first home. Yes, indeed 2011 was an awesome year!!

Can't wait to see what you do in 2012...

See you in a year!

Me
Sounds like its gonna be a great year!