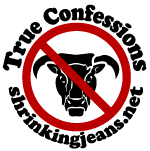 It's True Confessions time over at the
Sisterhood
and I wanted to get some things settled right here before my friends. So no delaying it with needless information and wordy explanations here are my confessions for this week.
The past 2 weeks I have been faithfully tracking my food and exercise on my LoseIt program on hubby's Ipod touch that he loaned/gave me. I have managed to burn off most of my excess calories. I think I only have 2 or 3 days where I really bonbed it. Some days I even fell well under "calories allotted" BEFORE I exercised! those were really good days, but the next day I felt like I was STARVING.ALL.DAY.LONG!! I have been faithfully logging everything I put in my mouth and have exercised 24 days in a row!!
Saturday and yesterday I did some heavy duty cleaning that I counted as my exercise for those 2 days. I consider moving furniture and scrubbing bathtubs, stoves and cabinets exercise!! I also wiped down walls and baseboards and washed windows...so lots of movement and muscle use for thesse 2 days! Saturday I took care of my house - at least some of it...I still have the living room (which will probably take a weekend all by itself) and my closet to do and I need to find the floor to That Other Kid's closet and get rid of some of the toys he never plays with but that will probably have to wait till this weekend. I can only cram so much into a week, ya know!!??
Yesterday, I went over to help my friend (with newly diagnosed breast cancer) thoroughly clean her master bedroom. Her mom and I are wanting to keep her as healthy as possible while she is going through the chemo treatments and having a thoroughly clean house will certainly help her breathe! She repeatedly told me how much she appreciated it. My only response to her was that helping her clean was something I could PHYSICALLY DO to help her. I NEED to DO something! and this sure beat EATING uncontrollably which is what I keep "wanting" to do because I am having a really hard time dealing with my best friend having breast cancer!! I have been doing pretty well with the stress of this, I think. Everytime I start "thinking" I want to eat something 'just because' I start cleaning or exercising!!
Apparently I am really serious about not letting this stress get the best of me this time!!
Additional confession of the day...I haven't seen That Kid in over 2 weeks (since he moved out of our place into his own with friends). I know he is 20 years old and about to be sent off for Marine boot camp but I miss him!! Maybe I miss him even more knowing that soon I won't be able to see him anytime I want cuz he will be out of state or out of the country!! I don't know....but I do think for the most part I am handling his absence in our family pretty well. Sometimes when I really am missing him I just start texting him random questions...hoping that I will get to "talk" to him in whatever way possible!! I invited him home for dinner tonight, so hopefully he will come eat with us so I can talk to him in person!! Of course, his brother will probably monopolize his time here but at least I will see him!!
My hubby asked me last night where I would like to go on a vacation if I could go ANYWHERE I WANTED. Um....I thought about it for a while and decided a 2 week vacation to Hawaii sounds like a perfect vacation. I want to hike, bike, sitesee and sit on the beach and be a bum (occasionally!) He said to plan on it within 18 months so I definitely want to be in tip top shape by then...don't want to be fat and out of shape for a trip like that!!
Ok...enough for today...just wanted to let ya'll know I am having a pretty successful (in my opinion) couple of weeks. We will see what the scales say tomorrow! Until then...hope ya'll have a good day!