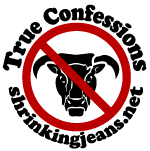 It time for confessions again over at the
Sisterhood
.
I have been in a funk all week, don't really know why, but it is true. It's affecting the way I exercise, the way I think, the way I eat and the way I act around my family. I have been sitting around just vegging out at night blog hopping. It hasn't been pretty, either. DH has noticed and he wants to know "what's wrong?"
I don't really have an answer.
I physically am not sick.
I feel a little blah.
I don't want to sit in a dirty house, but don't really feel like cleaning it either.
My hormones seem out of sorts, cuz I am grumpy sometimes for no apparent reason.
I feel bloated but that may have something to do with my minimal exercise and excessive eating of salty foods.
I don't really have "that time of month" too often but I seem to be feeling like I should, ya know? Maybe I'm going through pre-menopause? Any ideas?? I don't know but I really need this feeling of "blah-ness" to go away.
2 weeks ago the trainer at the gym asked me how committed I am to losing this weight and I told him on a scale of 1 - 10 I was definitely committed 100%....but the past week I haven't acted like it. Maybe I just need a swift kick in the booty!
I have been following the C25K training plan and running/walking but that's about all the exercise I have been getting the past week and a half. That's gotta change or my weight will NOT go down...
Help me pull out of the funk, will ya??!!