This month is
The Taste Of Sisterhood
month over at the Sisterhood of Shrinking Jeans and I was asked to show/talk about a meal that I love.
Well it's nothing fancy and it's nothing special but it is what I eat nearly every morning for breakfast! The fact that I just said I "eat it nearly every morning" is a major change for me in my healthy eating journey of weight loss. I used to HATE eating breakfast and NEVER felt "hungry" at breakfast so I wouldn't eat it. But NOW I eat breakfast every day (and on those days I can't eat my "normal" breakfast I grab something to eat in the car or on the go....BIG change for me!!
Anyway, without further ado here is my breakfast of choice --
No Fat Plain Greek Yogurt with a diced apple and almonds!! YUM!! and with a decent sized apple and 20 raw almonds it is only 323 calories which is (according to my calorie count) just about right for breakfast!
It is filling and good for me! On those days I just don't have time to eat this for breakfast I grab a banana and a Fiber One bar and within about 1 hour I am hungry again. When I eat my yogurt breakfast I am not hungry for around 3 hours (ie lunch time)!! Love that!!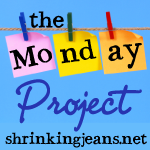 For the Monday Project this month we are supposed to cook one thing that the ladies/gent featured and talk about it. That one was pretty easy for me because as soon I saw Ryan's sausage/egg omlete I knew I was going to make it as long as I could find the 2 main ingredients. That turned out to be an easy task, too since they were both at the local grocery store I shop at all the time...in fact I was there 3 times in 2 days this weekend! lol Although I did make a couple of substitutions -- like no salsa and "spicy italian" instead of "habanero" (which my grocery store didn't carry) I think it was a pretty successful healthy breakfast for my dh...I gave him a piece of whole wheat toast too!!
My eggs didn't turn out as nice looking as
Ryan's
did this morning because he forgot to mention in his instructions to make sure to use
LOTS
of cooking spray before you put those sausages in the pan!! My husband said the sausage was great and made the plain, boring egg whites edible!!
So there you have it...breakfast for the adults in this household today!!