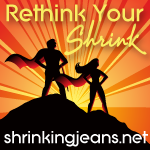 According to
ChristieO
this is the Final Weigh In for the Rethink Your Shrink Challenge. I personally am glad to be done with the Challenge. I have learned an amazing amount of things about myself during this time period. I have proven to myself that "I CAN DO IT!!" Whatever
'IT'
is! I can go
way
past my comfort zone. I have learned that when I am under great amounts of stress (like dh not working for going on 7 weeks and no unemployment monies available) I faulter A LOT!
But I also learned that I CAN walk away from the kitchen and that bag of chips that are supposed to be for That Other Kid! I learned that during the past 10 1/2 months I have inspired a lot of people to get on the band wagon and give this weight loss journey a shot. Several of my friends 'who could never lose weight' are NOW losing weight, because they are following my examples of exercising consistently and eating a lower fat, higher fiber diet; ie., a well balanced diet. They are no longer wondering why it's not happening for them! I also, as of last night, got my dh to start exercising again!! He has been watching me workout now nearly every night for the past 10 1/2 months and he kept saying "wow! I am impressed with your dedication!" Finally last night I set up a routine for him to workout with on the WiiFit Plus!! He actually said it was challenging and FUN!!
I did not meet my goals during this challenge, but I know why! Am I disappointed? Of course, I didn't set the goals to fail. However, I learned so much about myself and what I can and can't do that I consider it a victory anyway.
My goals for this challenge --
Eat at least 5 servings of fruits/veggies a day.
I almost made it for this goal. I probably missed 7 days of eating the right amount of fruits/veggies.
Keep my house decluttered.
I can happily say that I did accomplish this goal! Every night I went to bed with a mostly cleaned up house! Please don't get me wrong, I have dishes in the sick and laundry waiting to be folded as I type this, but the mess and clutter is not so bad that I wouldn't feel comfortable inviting a friend over for a visit!
Before this challenge I can't say that would be true! So
come on over and we'll have a visit...and if I know that you are coming I will even get that load of laundry folded and put away and dishes loaded into the dishwasher before you get here!!
My third and final goal for this challenge was to lose 10 or more pounds.
Sadly, I didn't even come close to this goal. But, as our lovely Jillian keeps telling us stress will kill the weight loss!
That has indeed happened to me.
My starting weight for this challenge was 192.2.
Today's weight was 188.8.
That's only a loss of 3.4 pounds,
BUT
I can safely say that if it had not been for this challenge and all the lovelies over at the
Sisterhood
I would have GAINED ALOT of weight during this time, instead of losing those 3.4 pounds. So Thanks to everyone for keeping me on the path to healthy living and losing weight!
We will be starting a new challenge REAL SOON (like Friday) so come back and get started with us at the Sisterhood. I'm sure we will be learning new things and challenging ourselves in new ways to meet the goal of healthy, fit human beings! It will be an Olympic Blast because all the girls over at the Sisterhood are creative and know just the right ways to inspire us to live a healthy lifestyle!! And we may even learn some more things about ourselves!!
Christie asked us to take a before and after picture....I have my before picture but tomorrow is my 'normal' picture taking day so I am going to go ahead and wait. I will post it tomorrow, so ya'll come back, ya hear!!
Have a great Wednesday....and remember whether you meet your goals or not as long as you set them and are working toward them you are doing something that is good for you!!