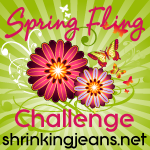 Isn't this the prettiest logo you have seen in a long time?? I need Spring!!
I could definitely go for some Spring-y-ness around here so in preparation for Spring the
Sisters are having another Challenge
, this time with TEAMS!! I'm on Team E (we get to come up with our own names!!) with
Trish
(don't you just love this blog name??),
Mendie
,
Donya
, Leslie, and Melissa. Teams are a ton of fun and very exciting when we get to encourage each other to succeed!!
I'm so excited to be starting this challenge right now. I'm about to start working (overnight; as in 3rd shift) and I haven't worked in over 6 years. I have never worked overnight...but I am confident that I can continue losing weight with some serious will power, and some love from my sisters! I'm not making any promises on consistent exercise during the beginning of this new schedule, but I will be exercising some since I will be moving constantly and lifting and carrying boxes and what-not.
The past couple of months have been stressful for me, since there has not been any income coming in, but now it looks like dh is finding at least a bit of work, and I will be working so maybe my mental stress will go down. Now I just have to control my emotional stresses of a new schedule and routine.
Ok...so down to business. Weigh in time -- It's not pretty but I didn't expect it to be. Did you read my
Confessions
? I'll wait if you want to read it now. That way you'll understand...You're back? Ok...so here goes...
Last week -- 188.0

This week -- 189.0
Actually I was surprised that it wasn't more of a gain. So I start this new challenge at 189.0. My goal for the 8 week challenge which takes us into the end of April is to lose 4 pounds so that I am at 185. I would love to lose more but I think if I set up a bigger goal than that I am going to set myself up for disappointment. The next couple of months are going to be difficult enough I don't need to add anything else to it.
My One Year Anniversary of Healthier Living
is 30 days away and I would like to hit a major milestone by that date. I think it would be great if I could weigh in at 186.8 on March 25...that would mean I had lost 40 pounds in 1 year. When I look at that number I kind of get discouraged but then I think about all the obstacles that I have conquered in this year. Not to mention going through a year of financial unstability with dh's work situation. So I'm going to be proud of myself and not get down. Instead I'm going to get HAPPY!! And I'm going to workout harder and stick with my healthy eating even better!!
I hope that ya'll will join in this new challenge. We always have so much fun! Oh and I almost forgot to mention --
The Sisters are giving away 11 copies of the Jillian Michaels 30 Day Shred DVD!!
You only have 24 hours to get your chance to win, so hurry!! I already own it and I can tell you it is a "killer good workout"!! We are going to start the workouts again on March 1. I hope I can find a way to do it every day...hum...when to exercise?? sleep, eat, spend time with That Other Kid and do everything else that momma needs to do??