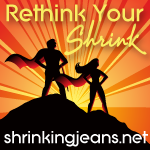 Today is weigh in day over at the
Sisterhood
and I have to admit I was NERVOUS about getting on the scale. But I don't want to miss out on an opportunity to get a number written down so I jumped on the scale. I was PLEASANTLY surprised!!
Last week's weigh in: 191.2
My weigh in today was: 187.9!!
WHOHOOOOO!! That's a loss of almost 4 pounds on a week where I was afraid I would gain! This week has been stressful. I have been eating dinner with the family and feel that I was eating too much for that evening meal. Some nights I would eat a snack late...just to get my 5th meal in for the day (supposed to eat 5 small meals a day with the GameOn Diet!).
One of my goals for the Rethinking My Shrink challenge is to eat 5 fruits/veggies a day and I can happily say I have been eating them EVERY DAY!! Another one of my goals for this challenge was to lose 10 or more pounds, and I am almost at my halfway point in reaching that goal!!
Can you say "New Workout Clothes"???? I can hardly wait!! Cuz did you see these pictures that I took Monday night???
Can you tell how baggy these clothes are getting? If not....Well THEY ARE!!
This weight was also another milestone for me, since I am only 2 pounds away from the weight I was when I got pregnant almost 7 years ago!! I have also lost 38 pounds since I started this journey on March 25!!