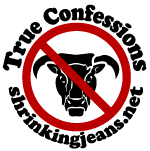 Wow!! Do I have a list today? and they say that confession is good for the soul so I need to "just do it" and spill my confessions. Here goes:
Thursday I ate an entire bag of chocolate kisses that a girlfriend sent for Christmas. It was sent for the whole family....I devoured it before anyone else could have any!
I was sick afterwards....both mentally and physically. Will I ever learn??
I did it because I was stressed out and angry at my family for "demanding my time"! I ask you, is that a good reason to make myself physically and mentally sick? I think NOT!
Since then I have been FOCUSED on eating right. I even took protein bars to the hockey rink this weekend so I would eat those instead of being hungry and coming home and eating everything in sight!
I have been preparing meals for my family this week and we've ALL been eating together as a family! But I think I have been eating TOO much at dinner time. I need to cut back on my serving sizes.
That Kid has been home from college since December 18 and I have LOVED having him home. That Kid leaves for college on Saturday and I'm going to miss him TERRIBLY
but
it will be nice to have one less person in the house. It's crowded when we are all here together! Nice....but still crowded. It is also difficult to get into a real school schedule with That Other Kid...because they want to hang out together and I don't blame them!
That Kid has been working out with the P90X DVD's this week and I have been watching some of it! It is TOUGH!! and it's making me want to work out harder so I can get to the point where I can do this workout with him! I'm a long way from it though!! (I'm proud of him for being able to what he can with this workout!)
Stress is bad....and I have been able to deal with it MOST days (since Thursday) this week by walking away from it and going to hide out in the bathroom -- the furthest place from the kitchen.
I started working out with Jillian Micheal's Fitness Ultimatum and I commented to dh that I think she is trying to kill me! I have been sore, but feel like it is an excellent way to further get my body back to where it should be!
That's all folks....how's your week going?? Have any confessions to make? Go over to the
Sisterhood
and confess. It's good for your soul and it's wonderful to have friends to "feel your pain"!!