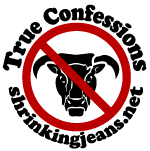 The Sisters
have changed the schedule for this new year. Tuesdays are now confession day. I guess that gives us an extra day to decide if we are going to truly confess from the weekend or just "let it slide" and then ask how we gained weight on Wednesdays! They also created this cool button and I think it fits pretty well. (No Bull-sh** allowed!! -- my 6 year old just asked me why no bulls were allowed (I told him cuz they were BAD!) and I added the extra letters!!!)) Confession is good for the soul, but it is usually because of EVIL/SIN that we NEED to confess, so good job ladies on the cool and new button for Confession Tuesday!
Here are my confessions for the week:
1) I have been craving and eating A LOT OF CHOCOLATE the past few days -- basically since New Years! I'm sure it's because of hormones and stress, but that's not really a good excuse. I HAVE TO STOP or I WILL NOT MEET MY GOALS!!
2) I have been countering all the chocolate with fruit...I have been getting my 5 servings of fruits/veggies every day. Although, yesterday it seemed to be a real struggle.
3) I finished the 6 week challenge on the Wii EA Sports More Active this weekend and it felt GREAT!!
4) I took the next night off and watched a movie (Julie and Julia) and enjoyed myself thoroughly.
5) I started working out with Jillian Micheals Ultimate Workout (Wii) last night and my
muscles.still.hurt
!! I start on The Resolutions (1 month workout) tonight and I'm kind of scared! She kept telling me I wasn't working hard enough last night...what's she going to say tonight, when I am already sore??!!
6) I have the Biggest Loser tv show (new season) set up on DVR for tonight. I'm looking forward to working out then watching the show afterwards! What better motivator than 2 sessions of JILLIAN to keep me moving???!!
7) I'm looking forward to tomorrow -- I start the Game On Diet again with my friends and we weigh in for the Sisterhood. This will keep me from eating a lot of junk -- cuz I don't want to let my friends down again and I want to meet my 7 week goal of losing 10 pounds!
NO MORE CHOCOLATE --- LOTS OF FRUITS/VEGGIES!!
What are your confessions??